Asia Perspectives: Keep resilient Japan on radar
Fumio Kishida is set to become Japan's next prime minister after winning the ruling Liberal Democratic Party's (LDP) presidential election. Kishida now faces a general election that must be held by late November
Against the backdrop of leadership change, Japan's economy is expected to grow by 2.2 per cent this year. The strongest part of Japan's economy has been the manufacturing sector, with nearly all indicators pointing to stronger growth ahead
While we are neutral on Japanese equities, investors should not ignore the world-class quality and resilient Japanese companies. The Japanese market presents attractive long-term opportunities, in our view. Its depth and its unique market drivers, such as reopening and potential new fiscal stimulus, should make the Japanese market a good source of ideas for global portfolio diversification
New Leadership, New Japan
Fumio Kishida, a former foreign minister, is set to become Japan's next prime minister after winning the ruling Liberal Democratic Party's (LDP) presidential election in a runoff against the vaccination minister, Taro Kono. Kishida now faces the 49th general election of members of the House of Representatives that must be held by late November.
With the economy still facing headwinds from the pandemic, Kishida is most likely to push for more fiscal support for the economy (he has promised an economic stimulus package of more than JPY30 trillion and for support for the Bank of Japan's (BoJ) accommodative policy stance. Looking further ahead, the most crucial factor will be focusing on structural reforms to address how Japan can thrive in a post-pandemic world.
Don't ignore Japan
In the rush to capitalize on Asia's rapid growth, investors have often neglected – the world's third largest economy - Japan. Japanese companies are not only beneficiaries of Asia's growth but are also beneficiaries of other key structural themes in the post-pandemic world – Asia's rising middle class, digitisation, automation and robotics, and sustainability – yet Japanese companies remain underappreciated by investors with a small net outflow recorded in the past five months according to data on mutual funds.
Japanese companies are used to dealing with a challenging domestic backdrop. While Japan's economic backdrop has improved in recent years with a strong bounce of 7.6 per cent for its economy in Q2 2021, Japanese businesses have had to fight through a deflationary environment for years.
As a result, Japan's corporations are generally cautiously run with strong balance sheets and prudent management. This made them resilient in 2020 with the Japanese market thriving amid widespread volatility, rising 16 per cent over the course of last year when the pandemic was at its peak.
Japan's economy is still growing
We think Japan's economy can grow at 2.2 per cent in 2021, 1.8 per cent in 2022 and 0.4 per cent in 2023. The road to reopening is still bumpy with only about half of the population fully vaccinated. Looking ahead, the government is gradually moving toward ending the declaration of a state of emergency, and a rebound in consumption is likely in Q4 2021, albeit the rebound may be a somewhat cautious one.
The strongest part of Japan's economy has been the manufacturing sector, with nearly all indicators pointing to stronger growth ahead. The export sector has been resilient as global demand for Japan's machinery remains robust. There has been strong global demand originating from Asia, including demand for the infrastructure and semiconductor related sectors.
Japanese Manufacturing PMI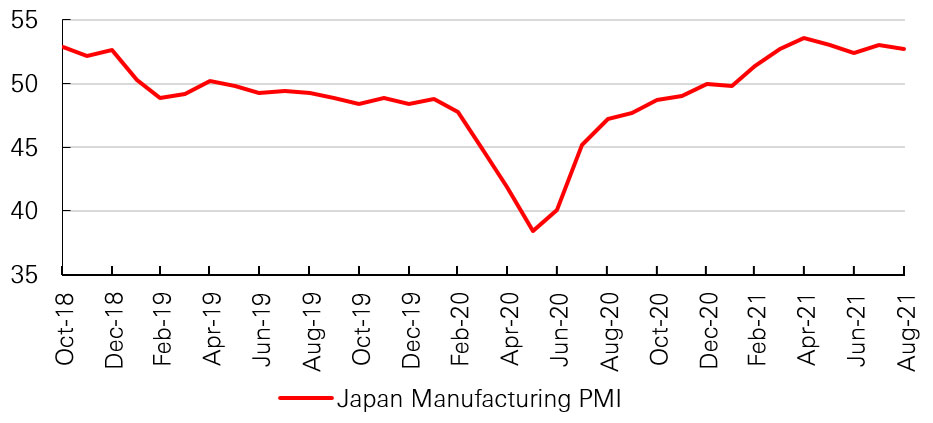 Source: Bloomberg, HSBC Private Banking as at 29 September 2021. Past performance is not a reliable indicator of future performance.
Japan – look for long term themes
While we are neutral on Japanese equities, investors should not ignore Japan. A key element in our global allocation strategy is that we have entered the mid-cycle stage with slower equity returns and increased volatility. Hence, we emphasise portfolio resilience through global diversification, a quality and large cap bias and picking companies that can maintain earnings even with rising input costs. Japan is home to many world-class companies. Japanese companies have been a hallmark for quality, proving proficient at using technology to improve quality at lower cost. These attributes of Japanese companies fit well into the core thesis of our global investment strategy.
For the shorter term, while the global recovery remains intact, sectors in Japan such as technology, autos, and manufacturing are already seeing improving demand. Japanese exports have rebounded, and we see growing earnings across a range of cyclical sectors.
For the long term, given its depth and its unique market drivers such as reopening and potential new fiscal stimulus, the Japanese market should provide a good source of ideas for global portfolio diversification. Foreign investors usually look for quality and liquid names with robust growth prospects, and such companies should benefit from foreign fund inflows.