Offers a secure way for clients to connect with their relationship management team through their preferred digital channel
Enhancing overall client experience with the latest digital innovation to meet clients' evolving needs
HSBC Private Banking announces the launch of HSBC GPB Chat, a client messaging platform for clients to interact with their relationship managers and investment counsellors through the channel of their choice, including WhatsApp and WeChat. This latest digital innovation provides an additional and convenient way for HSBC Private Banking clients in Asia Pacific to connect with us in a secure manner.
HSBC GPB Chat enables clients to communicate with their relationship management team via one-to-one chat, group chat, two-way document sharing and video/audio conferencing. Additional features will be added in the future to support the expanding servicing scope.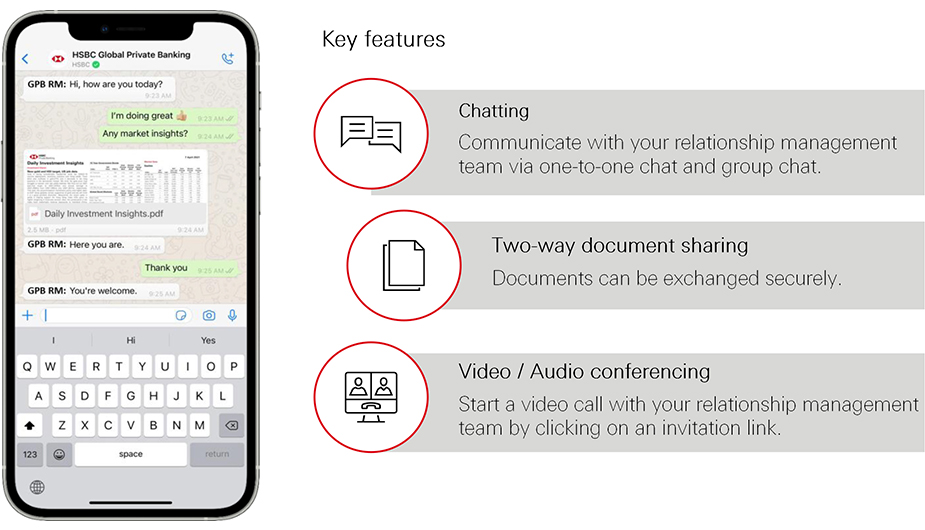 Siew Meng Tan, Regional Head of HSBC Private Banking, Asia-Pacific, said:
"Client relationships in the wealth management world are traditionally anchored around face to face interactions. While this remains a key part of the overall client experience, clients now see the benefit of innovation in enhancing the wealth management relationship, and would like to have more flexibility in the way they interact with the Bank. This changing need is even more prominent as the world moves into the new normal."
"With clients' needs at the core of what we do, HSBC Private Banking has been investing considerably in our product, distribution and digital capabilities in the last two years to provide our clients with a significantly improved experience. The launch of the HSBC GPB Chat is another step we have taken to improve the client journey as clients' needs evolve. It also further strengthens our position in the market as we continue to grow our portfolio of digital solutions" Tan continued.
HSBC Private Banking expects to invest over USD100 million in the next two years to build and innovate the core banking and digital platforms to meet the fast-changing wealth and lifestyle needs of our clients. In June this year, a new online trading platform was launched which gives customers direct access to cash equities and Exchange Traded Funds (ETFs) from their mobile phones, at the touch of a button.
About HSBC Private Banking
As part of the HSBC Group, one of the world's largest banking and financial services organisations, HSBC Private Banking seeks to be the leading international private bank for business owners and their families. It provides clients with wealth, business and family succession solutions in the largest and fastest growing markets around the world. HSBC Private Banking is the marketing name for the private banking business conducted by the principal private banking subsidiaries of the HSBC Group.
For more information, visit https://www.privatebanking.hsbc.com/
The Hongkong and Shanghai Banking Corporation Limited
The Hongkong and Shanghai Banking Corporation Limited is the founding member of the HSBC Group. HSBC serves customers worldwide from offices in 64 countries and territories in its geographical regions: Europe, Asia, North America, Latin America, and Middle East and North Africa. With assets of USD2,976 billion at 30 June 2021, HSBC is one of the world's largest banking and financial services organisations.