What to consider when selling your business
Exiting a business can be difficult on both a practical and an emotional level, but planning ahead can make a real difference. Find out how you can prepare for this life-changing decision.
Making the decision to sell your business can be difficult. Not only do you have to factor in the practical considerations of selling, but you also have to consider the effect doing so will have on your emotions and lifestyle. Planning ahead can remove some of the pressure and help you manage the transition. However, according to a recent survey, 67 per cent of family businesses have no succession or exit plan in place.1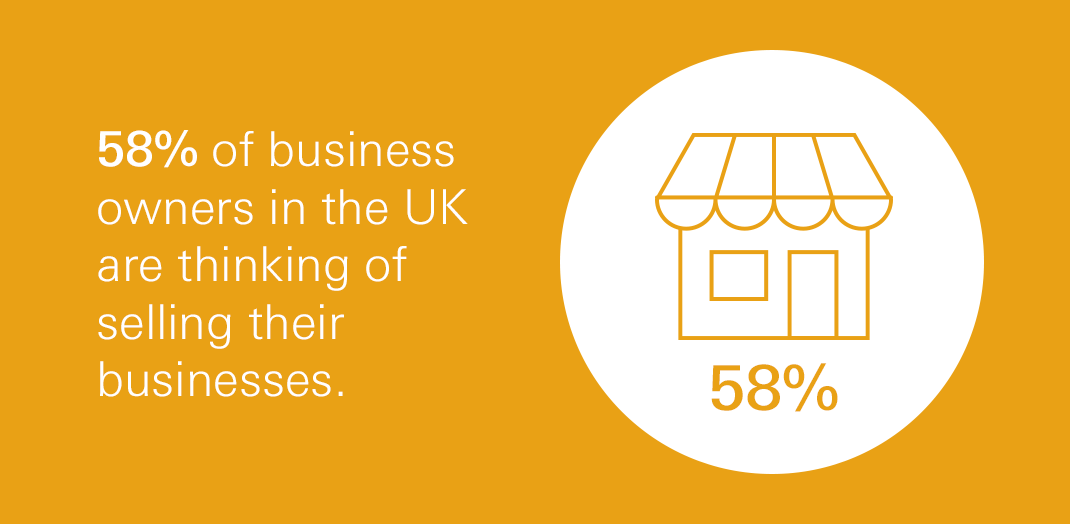 Coping with life changes
On a very personal level, dealing with both the extra time you'll have on your hands following the exit and how to manage your new-found wealth can be daunting. Extra time and extra cash may seem a dream come true, but when you've spent years of your life building a business and making it a success, suddenly handing it over to someone else can feel like a real loss.2
Your new-found wealth can also create strain. Managing this for you and your family's future requires careful thought. Creating a vision for your wealth, for your future and that of your family, which both you and they agree with, can be helpful.
A vision for your wealth, for example, may mean considering:
Whether you wish to be more philanthropic
Whether you wish to enjoy the fruits of your labours in your own lifetime
Whether preserving your wealth for future generations is important to you
A vision for your own future may mean retirement, a move into charity work, a role as a non-executive director or even a new business. For your family, that may involve changes in education, their own working futures or time spent together.
Preparing your business for sale
Preparing your business for sale requires rigorous planning to achieve the optimal outcome. What are the key considerations for you and your business?
Selling a business you have built from the ground up is one of the toughest decisions – and one of the most difficult processes – you are likely to face as a business owner.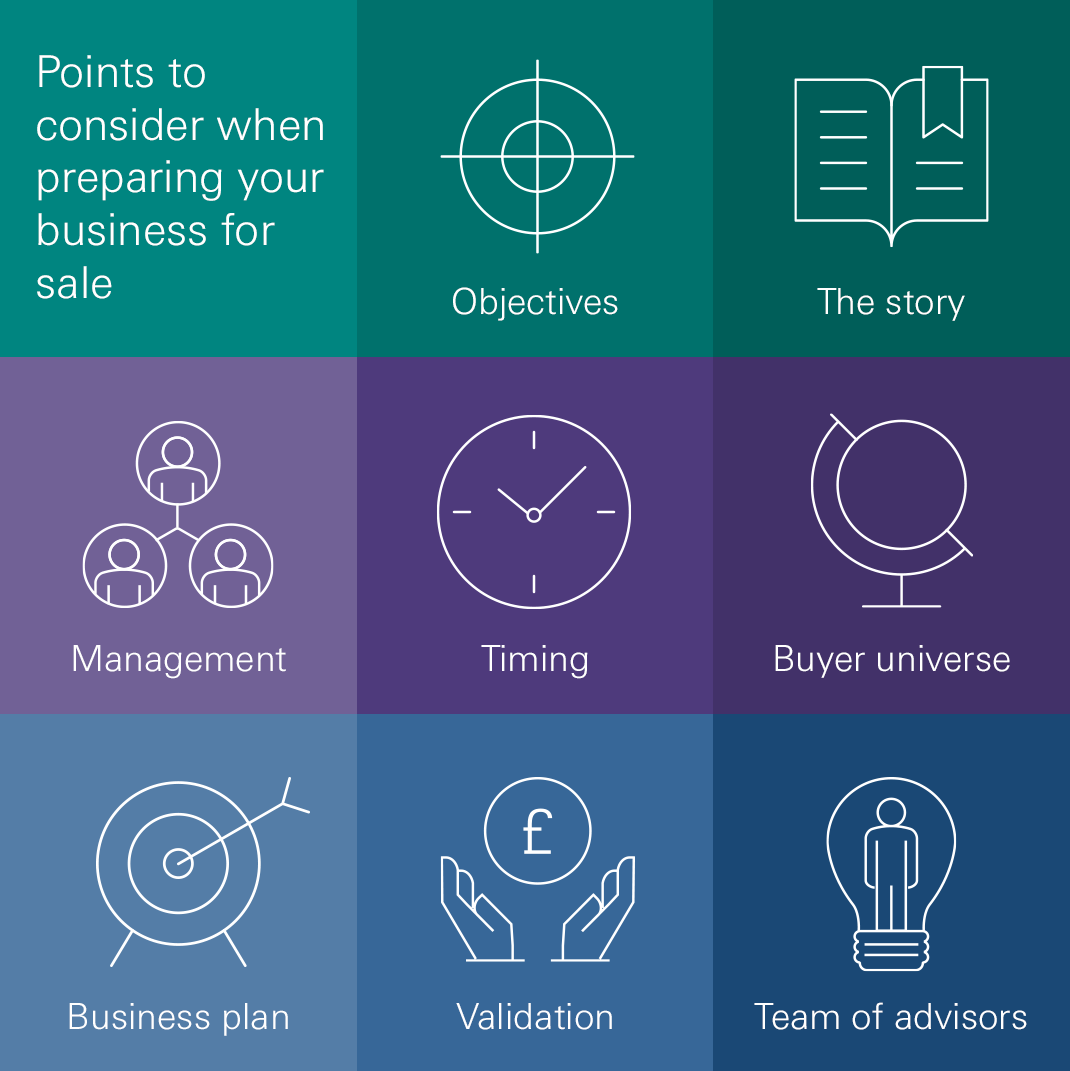 1. The sale objectives: Maximising value is an obvious goal, but other considerations may play a part. Protecting key employees or the location of the business, whether you will remain involved for a period of time or leave immediately, should all be considered
2. The story: Take an objective look at the value a buyer will see in your business. Make sure all data, systems and procedures are transparent and viewable. Anticipating buyer questions and ensuring no surprises during due diligence mean a smoother process
3. The management team: Make sure it's robust enough to cope with your exit, without damaging the value of the business
4. Time and timing: Selling at the optimal time in your business or market cycle can make a real difference to the value you achieve and the stability of the business. It's also important to manage information – news of a potential sale can impact employee and customer relations
5. The buyer universe: Consider whether your business may appeal to a trade buyer (someone looking to extend their market/product share), a financial buyer (someone looking to grow investment potential) or whether interest from within the business or overseas might be an option
6. Business plan: Showing your cash projections, trading forecasts and future potential can help attract buyers and a better deal
7. Valuation: For trading businesses, the valuation is typically calculated as a multiple of profits, including the level and trajectory of profits, and the multiple the buyer is willing to pay. A track record of profitability and a sense of future potential will also impact on the value achieved
8. Team of advisors: Assembling a team you can trust is vital. Look at their track record of handling sales in your sector and of businesses of your size. Their value is useful, of course, but personal chemistry is also important
To find out more about how we can help as you prepare and manage your plans for business succession or exit, contact your Relationship Manager.
1The Annual Business Survey, Family Business Place, 2016↩
2Essence of Enterprise Survey, HSBC, 2017↩